A Mackin Webinar: Helping Dyslexic and Striving Readers With Evidence-Based Text
Thursday, March 3rd, 3:00 EST
Join Mackin for a fascinating, informative event with CEO and founder of Noah Text, Sarah K. Blodgett, and Certified Dyslexia Interventionist and Co-Director of RI Tutorial & Educational Services, Lisa Bigney. Sarah and Lisa will discuss the unique attributes of English that make dyslexia more common in the United States than in most other countries and result in students needing 2-3 times more reading instruction time and practice than children in countries with less complex languages. They will also introduce Noah Text®, a specialized scaffolded text that builds reading skills while enhancing fluency, stamina, and reading confidence from the most struggling to the slightly resistant reader. Noah Text® was designed to make reading easier by simulating what simpler languages provide by making critical patterns visible to the reader. Notably, students and teachers have found it to be highly effective.
A Certificate of Attendance will be issued to those who attend this webinar. A recording will be posted to Mackin.com for those who cannot participate in the live session. For registration and further information go to:
https://www.mackin.com/hq/helping-dyslexic-and-striving-readers-with-evidence-based-text/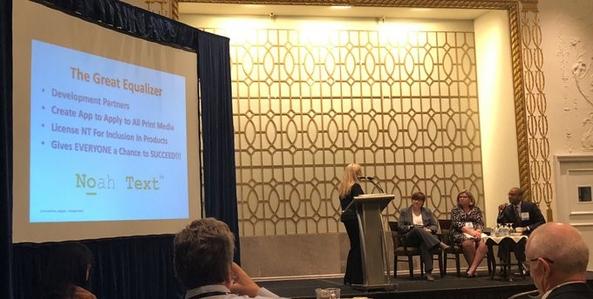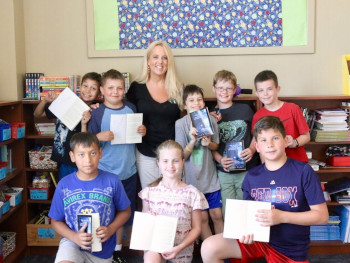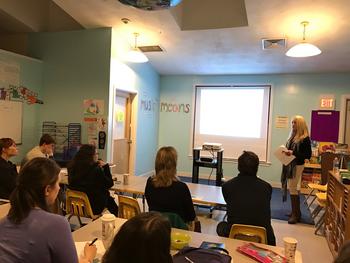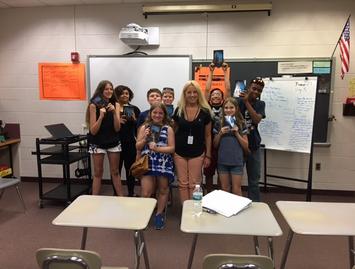 Sarah is currently speaking at colleges, schools, and various human service organizations regarding her cross-linguistic research, the development of Noah Text®, and how it relates to literacy in this country. She specifically addresses how you can help your child or student become a fluent, confident reader by utilizing this information, along with current evidence-based practices. Her workshops are highly engaging and meaningful.
Sarah also visits schools to meet with students who are reading her books!
To reserve a private event, workshop, or webinar, please email us at info@noahtext.com or give us a call at (860)334-3058.
What People Are Saying...
Sarah's fresh, research-based ideas on literacy and reading were gripping, creative, and relevant! Her innovative take on rimes was somewhat of an experiment for us, but an opportunity we were glad to take! While other facilitators lock into a stale PowerPoint, Sarah breathed life into her content with visuals, hands-on materials, reciprocal conversation, and a multi-modal approach that left participants reflecting long afterwards on the impact of her program! It was as meaningful as it was provocative! Christopher D. Salaun, Professional Development Specialist, Children's Friend
Sarah Blodgett recently presented at the 56th Annual Correctional Education Association Region 1 that the New Jersey Chapter of the Correctional Education Association hosted at the Grand Hotel in Cape May, New Jersey on May 31 through June 2, 2017. Her workshops were well received by all of the educators who attended her workshops. As an educator, I really appreciate Sarah's dedication in completing thousands of hours of research to develop a system in order to assist her son to not only read but to enjoy it! I have been an educator for over 40 years with over 35 years working with students who have difficulty reading. I highly recommend the method that Sarah Blodgett has developed to assist students who struggle to read. Kevin Kavanaugh, NJ Correctional Education Association President, Deputy Director Region 1 Correctional Education Association
I was very intrigued by Sarah Blodgett's talk. I was interested in how her books were specialized to help children with dyslexia and I would love to see if one day all books could come in the form of Noah Text. Workshop Participant​/Teacher
She has great techniques to assist emergent readers or English second language learners. Workshop Participant/Teacher
Her system was easy to understand. She was very informative. Outstanding! Workshop Participant/Teacher